We are creating a unique curriculum to keep our children's minds and hands busy throughout the day. Our curriculum is based on many theories including those of Piaget, Vygotsky, Montessori, and Bruner. The Texas Essential Knowledge and Skills for Pre-Kindergarten will be used to assess the children.
Learning Centers:

* Manipulative / Math
* ABC and Writing
* Construction
* Library
* Computer
* Science
* Art and Music
* Dramatic Play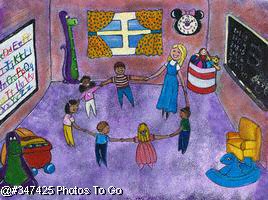 We are dedicated to teaching a child through a stress free, friendly, loving and caring environment!
Summer Themes:
June 10- Welcome Summer!
June 17- Robots
June 24- Space
July 1- Stars and Stripes
July 8- Safety & Community
July 15- Weather
July 22- Science
July 29- Once Upon a Time
August 5- Artists Studio
August 12- BFCA Olympics
August 19- Back to School
August 26- All Ready Curriculum Begins